Teaching Design CONVERSATIONS
28.01. – 11.02.2020, at
A–Z
, Berlin
Teaching Design CONVERSATIONS is a temporary library and conversational format about design education from intersectional feminist and decolonial perspectives. Building on the online platform Teaching Design, the two-week long format CONVERSATIONS provided access to literature in a physical space as a framework to come together and connect with like-minded design educators – such as ourselves – and everybody interested in the field.


Let's share our experiences, doubts, questions, knowledge, concepts, methods and references to transform current structures!
THE TEMPORARY LIBRARY
The temporary library at A–Z from 28.01.–11.02.2020 has grown from the collectively gathered resources from our online platform Teaching Design. The books will be compiled from Berlin libraries and provided by
Proqm
. We warmly invite you to use the space to browse through the literature, read, listen and discuss!
︎ Visit the library Friday's from 13:00 – 18:00 or make a personal appointment via
info@teaching-design.net
THE SPACE
The A–Z space was transformed by commissioned work by artists and designers
Benedetta Crippa
(Stockholm),
Peter Behrbohm
(Berlin) and
Fabrice Höfgen
following core principles of Teaching Design: The temporary library offered access to resources to develop transformative strategies, a safe space to ask critical questions and start a dialogue and the tools to share and exchange knowledge. (For more info on the artists see next page.)
If you would like to get in touch, bring Teaching Design CONVERSATIONS to your city/town/school or would like to collaborate send us an
e-Mail
!
Thanks to
Charlotte Rohde
for kindly providing her awesome font Calyces. We thank
Proqm
for providing books for our physical library. Thank you,
Paul Steinmann
, for many discussions & your feedback. Thank you to Maya Ober and
depatriarchise design
for much inspiration and for informing our thinking.
⠀⠀⠀⠀⠀⠀⠀⠀ ⠀⠀⠀⠀⠀⠀⠀⠀⠀⠀⠀ ⠀⠀⠀⠀⠀⠀⠀⠀
The print of the curtain was supported by
Cottonbee
and the tea for our library meet-ups by
Die Kräutermanufaktur
– Thank you!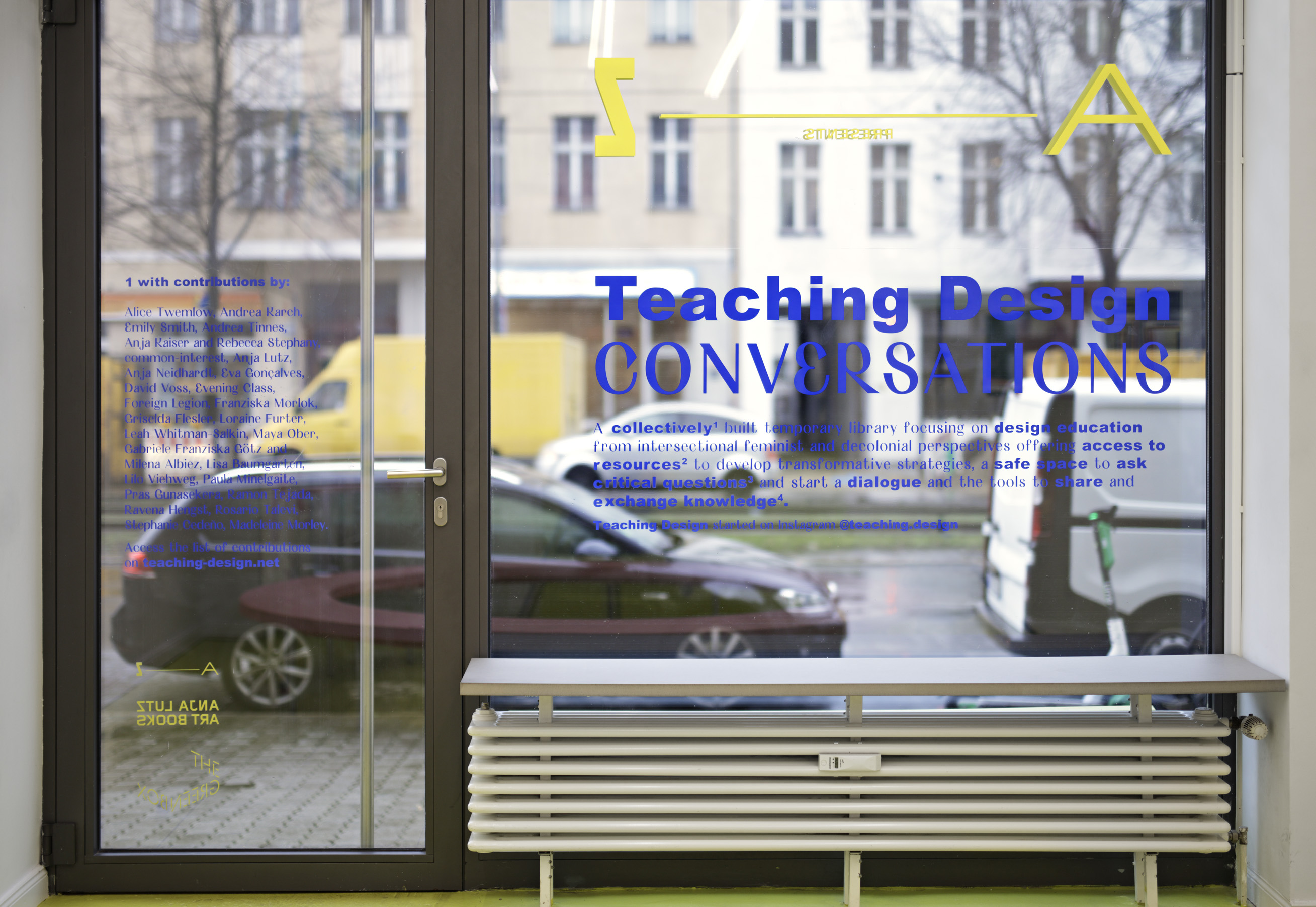 Photos (c) Hans-Georg Gaul for A–Z, Berlin
PROGRAM
Tue, 28.01.2020, 18:30
OPENING with contributions by
Imad Gebrayel
, a Lebanese designer and researcher based in Berlin whose projects revolve around identity politics, migration and representation. Imad will be discussing modes of exclusion and coloniality of power in both EU and Non-EU design education systems based on his experience in Lebanon, the Netherlands and Germany.
Stefanie Rau
, who moves with her work between the fields of graphic design, text-based artistic practices and teaching. In a form of auto-critique Stefanie will reflect on her experiences and involvement in self-organized educational projects and her work at the Weißensee Academy of Art where she started teaching in 2019.
Madeleine Morley
, a Berlin-based design writer, editor and researcher. Madeleine's talk will discuss writing about (and around) design history, and the things that often get in the way. She will describe her own process of looking for gaps, following the labour, practising care, and working both with and against the archive.
Sat, 01.02.2020, 15:00–18:00
WORKSHOP with Antonia Schneemann
and Lisa Baumgarten
Why do I do what I do
like I do it
and not differently? – Part 1
In this workshop we move from the theoretical examination of design to practice. Starting from the participants' and our own individual experiential knowledge, we will test methods, reflect on our individual standpoint(s) and skills, and discuss the question: How do we want to learn and teach?
You can find more info on our Workshops and Antonia and Lisa
here
.
Thu, 06.02.2020, 19:00
BOOK RELEASE and READING
Real-time Realist #2 with
Jungmyung Lee
and Lieven Lahaye
jung-lee.nl/press/real-time-realist-2
Published by J-LTF Press, "Real-Time Realist" is an experiment in the range of human affect through typography, visual art, and contemporary writing, based on psychologist Robert Plutchik's Wheel of Emotions. This publication is, also, a type specimen of linguistic significance which showcases typefaces produced by Jung-Lee Type Foundry. The second issue explores ECSTASY, JOY, SERENITY, and LOVE, The Yellow Wheel, with contributions from invited artists distilling the aforesaid emotions.
Tue, 11.02.2020, 19:00
Closing Event
READING and BOOK SALE
We will sum up our two-weeks exhibition with reading selected texts from our library which will also be published in a printed reader. The books provided by Proqm will be sold during the event.