The Last Straw – Intersectional Perspectives on Sustainability
Design research seminar, Summer 2022

M.A., Transformation Design,
University of the Arts (HBK) Braunschweig
EN
In the last semester, the topic of climate change and sustainability has repeatedly come up as one of your major interests. For this reason, we will address the question of how an intersectional perspective on sustainability is important in order to develop proposals and strategies that are discrimination-sensitive and multi-perspective. We will follow up on some topics you have already encountered in our introductory seminar – such as Ontological Design (Escobar), situated knowledge (Haraway), New Materialism – and look at how these and other approaches can be put into practice or have already been implemented in projects.
There will be inputs on the concept of intersectionality and on the different concepts of sustainability, as well as on concrete projects from design, art and activism. We will work with methods from anthropology and go on local field research.
In doing so, we will touch on topics such as Eco-Ableism, Eco-Feminisms, Crisis and Urgency, Anthropocene, and Critical Sustainability, among others.
We are welcoming guests, such as:
Dr. Eda Elif Tibet
(Critical Sustainability Lab, CH)
Nathalie Bromberger
(activist and initiator of the project
Raus aus der Dominanz
)
Angela Asomah and Lea Dehning (
BUNDJugend, Locals United
).
There is also an excursion planned to the conference
Die Zivilisationsfrage
at the Haus der Kulturen der Welt in Berlin.
DE
Im letzten Semester ist immer wieder das Thema Klimawandel und Nachhaltigkeit als eines eurer großen Interessen aufgekommen. Wir werden uns aus diesem Grund mit der Frage auseinandersetzen, inwiefern eine intersektionale Perspektive auf Nachhaltigkeit wichtig ist, um Vorschläge und Strategien zu entwickeln, die diskriminierungssensibel und multiperspektivisch sind. Wir schließen damit an einige Themen an, die euch in unserem Einführungsseminar schon begegnet sind – wie u. a. Ontological Design (Escobar), situiertes Wissen (Haraway), New Materialism – und schauen, wie sich diese und weitere Denkansätze in die Praxis umsetzen lassen oder auch schon in Projekten umgesetzt sind. Es wird Inputs geben zum Konzept der Intersektionalität und zu den verschiedenen Nachhaltigkeitskonzepten, sowie zu konkreten Projekten aus Design, Kunst und Aktivismus. Wir werden mit Methoden aus der Anthropologie arbeiten und uns lokal auf Feldrecherche begeben. Dabei streifen wir Themen wie u. a. Eco-Ableism, Ökofeminismen, Crisis and Urgency, Anthropozän und kritische Nachhaltigkeit.
Zu Gast haben wir:
Dr. Eda Elif Tibet
(Critical Sustainability Lab, CH)
Nathalie Bromberger
(Aktivistin und Initiatorin des Projekts
Raus aus der Dominanz
)
Angela Asomah und Lea Dehning (
BUNDJugend, Locals United
).
Geplant ist außerdem eine Exkursion zur Konferenz
Die Zivilisationsfrage
am Haus der Kulturen der Welt in Berlin.
Selected students work (wip)

Wer spricht?
A Podcast about reflecting priviledges
by Ada, Hanh, Vanessa and Vanice
Literature
This is an excerpt of the bibliography we worked with.
The Last Straw, I need plastic straws. Banning them puts a serious burden on people with disabilities, Alice Wong, 19.07.2018, https://www.eater.com/2018/7/19/17586742/plastic-straw-ban-disabilities
Françoise Vergès: Racial Capitalocene Is the Anthropocene radical?, 30.08.2017, Verso Blog, https://www.versobooks.com/blogs/3376-racial-capitalocene
DFG-Forschungsgruppe Recht-Geschlecht-Kollektivität: Anspruch auf eine gemeinsame Welt? Geschlecht in Umweltrecht und Umweltklagen, Genderblog HU Berlin, 2021
https://genderblog.hu-berlin.de/anspruch-auf-eine-gemeinsame-welt-geschlecht-inumweltrecht-und-umweltklagen/
The Botanical Mind, produced by Camden Art Center, 2020
https://www.botanicalmind.online/podcasts
Podcast: Was ist "Ökologischer Feminismus" ? (Folge 2), Talk Social Science To Me, mit Katharina Hoppe, 15.03. 2022, https://talksocialscience.uni-frankfurt.de/katharina-hoppe-was-ist-okologischer-feminismus/
Screenshot of our seminar reader on Miro.
Reflecting after 2-weeks of working with the reading materials.
Exercise: Priviledge for Sale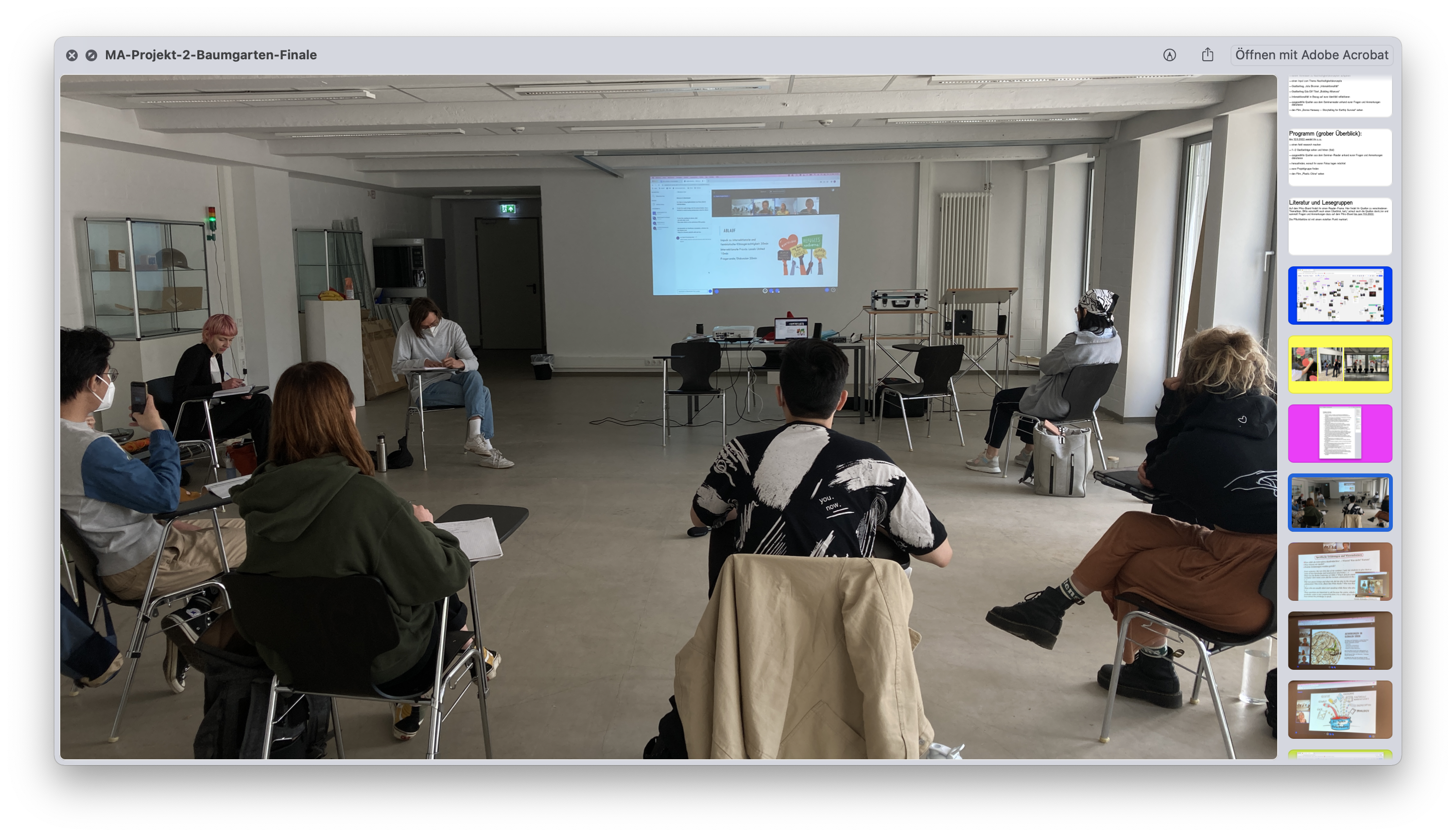 Seminar session – Talking to our guests Angela Asomah and Lea Dehning (
BUNDJugend, Locals United
).
Field research exercise.